I have actually watched the movie The Wizard Of Oz before, but I haven't watched it while listening to Pink Floyd, actually. In fact, I don't really even like Pink Floyd at all, to be honest. The most I like from them are the songs Comfortably Numb and Wish You Were Here. I would try it sometime in the future, however. Just not in the near future, Nya~. By the way, I do actually find the wizard of oz to be a really good movie. Definitely something worth watching more than once, Nya~.
Vizzed's #1 Sonic The Hedgehog Fan!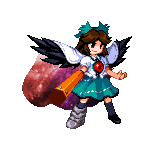 Affected by 'Laziness'

Position: Elite
Since: 02-16-10
From: Oblivion
Last Post: 2 days
Last Active: 22 min.