So I got bored of my last wallpaper. Spruced things up a bit... I'm kind of getting annoyed at
that "Microsoft Confidential" notice, so I think I'll be going back to Windows 7 in a little
bit, but in the mean time, here's my current setup. I actually made this wallpaper for a netbook
because I just wanted something very simple, and I couldn't find a wallpaper that fit that motif,
so a grid seemed good to me. It looked pretty nice on the small screen with all the icons and
toolbars hidden. I'm sort of digging on it on the large screen too, but I have to get rid of all
that ugly text first. D=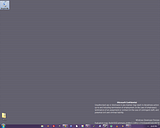 Click the thumbnail for full size.
Edit:
Some inconsiderate users stretched the tables too much in here, my layout was way
off the screen. (last edited by Lazlo Falconi on 02-12-12 12:21 AM)