I have near perfect eye-sight. It's in my family to have glasses, but I don't, which is weird because I'm spending a lot of my life into an eye straining screen.

Sure, things go blurry once and a while, when I'm tired, but I still see everything perfectly.

Phantom
King of all Magikarps
VIZZEDS GREATEST ZELDA FAN.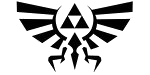 Affected by 'Laziness'

Position: Local
Role: Article Writer

Since: 02-24-10
From: Sydney, Nova Scotia
Last Post: 3 days
Last Active: 35 min.