Real Name:
Shadow the hedgehog's missing link
Location:
some place in the universe
Age / Birthday:
18 / 06-06-94



| | |
| --- | --- |
| Post Exp | Words per Post |
| 20,294 | 28 avg |
| Posts | Threads |
| 730 | 26 |
| Viz: | Gender: |
| 27,198 | Male |




| | |
| --- | --- |
| Contribution Points: 26.4 | Trust Points: 10.0 |

Position: Trusted Member

Registration: 11-01-10 09:14 AM (932 days ago)
Last Activity: 05-21-13 10:26 AM

Online Status / Last page: OFFline
Using 'Edit Profile'

Last Post: 05-21-13 10:26 AM
in Throw a random object at the user below you! (Crazy House)
Speedic's Web Information
Email address
Homepage
ICQ number
0
AIM screen name
Yahoo!
I-Mood

Speedic's Board Information
Name Style
Speedic
Posts
730 (0.78 per day)


Threads
Chat Hrs
26
0
EXP status
Level: 44 - EXP: 602314 (for next level: 8971) Gain: 1237 EXP per post, 267.546 seconds to gain 1 EXP when idle

Speedic's Settings
Timezone offset
12 hours from the server, 12 hours from you (current time: 05-22-13 10:45 AM)
Display
500 threads per page, 20 posts per page
Quick thread
Disabled
Post toolbar
Enabled
Layouts
Auto-Updating
Sig Seperator
Line
Newbie Quiz
Score: 80% - Passed!
Equipment
Torze
Heart Shield
None
None
None
None
Accessories
Speedic's Friends List (29 friends)
a crazy pokemon: icrazy,

a goodan: goodan,

A+ Online Friend: rka0917,

Juliet,

BNuge,

DBDonald,

Bintsy,

Fire emblem hero: Linksfury,

good gamer: kyuremu,

great person : noelia,

lives w pokemon: pjdavis,

man with 9 pies: pieman9,

New recruit: Endago,

Online Friend: Davideo7,

dkmec20,

Kadorah,

quick poster: rowenisopirus,

Ruler of Yoshis: Birdboy,

Silver companion: SilverMaestro,

Super sonic hero: supersonic1998,

the 1 in Sept.: septembern,

the Fire owl: owlflame,

the Hacker!!!!: hackerman,

the legacy: legacyme3,

the nintendo guy: nintendomangaguy,

the secret hero: Speedic,

The yellow guy: yellow toad,

Thee Natas: Natas,

wiz on viz: vizwiz123,

People who have added Speedic to their friends list (27)
yellow toad,

rka0917,

SilverMaestro,

Speedic,

noelia,

Endago,

nintendomangaguy,

dkmec20,

Linksfury,

kyuremu,

Kadorah,

supersonic1998,

Natas,

winfred,

goodan,

pjdavis,

xHellsKnightx,

hackerman,

icrazy,

DBDonald,

pieman9,

Omniterran,

owlflame,

Birdboy,

rowenisopirus,

vizwiz123,

septembern,

Speedic's Referral Information
Referred (2): Birdboy, yellow toad,
Referal URL
http://www.google.com/search?q=super+mario+land+online&ie=utf-8&oe=utf-8&aq=t&rls=org.mozilla:en-US:official&client=firefox-a
First URL
http://www.vizzed.com/vizzedboard/retro/game.php?id=2653
Speedic's Photo Album Pictures (4)
Speedic's Profile Comments (Show 100 Comments)

NintendoPower24
(6-6-2012 10:10 PM)

happy birthday

rcarter2
(9-11-2011 8:36 PM)

Whoops. Sorry about that. It has been so long since I read the rules that I forgot.

Speedic
(9-11-2011 5:45 PM)

please, no spam in the comments.....if it is a question...please PM me

rcarter2
(8-29-2011 1:29 PM)

Hey. I don't know if you see this screen on your computer, but I was looking on the name the game and world thread you made, and everything after my guess is completely black. So I was just wondering if you knew what's wrong with it and if my answer was correct.

icrazy
(8-19-2011 10:11 AM)

your hyper sonic I'm hyper knuckles

Post Layout (Block layout)
This is what your post will look like. If it doesnt look right here it will not look right in a post.

--------------------
who's side are you on?
Speedic's Biography
I am the X-prototype of Shadow the hedgehog. I was made with the missing 8th chaos emerald. I was a secret until recently. If you see me, you may get a glimpse of the "ultimate" power.

If you want to get secret questions answered about who I am, and other information. Send me 100 viz, with your question...and a secret answer will be given.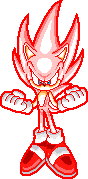 CARAMELLDANSEN!